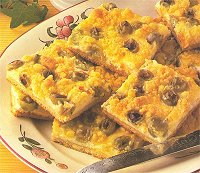 Dough:
3 cups flour

3 tsp baking powder

2 1/3 sticks butter

2 2/3 cups sugar

2 eggs

1 Tbsp milk

Breadcrumbs
Filling:
3 egg whites

2 cups milk

½ cup water

1 egg yolk

2 packs Dr. Oetker Vanilla pudding

1 ½ cup sugar

1 ½ tsp vanilla sugar or 1 pack Dr. Oetker Vanilla Sugar
Topping
1 ½ pounds gooseberries

1 ½ cups flour

2/3 cup sugar

1 stick + 1 Tbsp butter
Take the flour, mix in the baking powder and sugar. Melt butter and mix into the flour. Beat eggs with 1 Tbsp of milk and also mix into the flour. Knead well, cover with plastic wrap and refrigerate for one hour. Cook a firm vanilla pudding using the 2 packs of vanilla pudding, milk, water, and egg yolk. Let cool completely. Mix Quark into the pudding. Add sugar and vanilla sugar into the Quark mix. Beat egg whites until stiff and fold into Quark mixture. Grease a cookie sheet with butter and coat with bread crumbs. Roll out dough to ½ inch thickness onto the cookie sheet. Spread Quark mixture on top. Put gooseberries on top of the Quark. Mix the flour with the butter and sugar and form crumbles. Place on top of cake and bake 45 minutes at 425F.