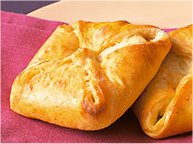 Dough:
2 cups flour

½ cup sugar

1 ½ tsp vanilla sugar or 1 pack Dr. Oetker Vanilla Sugar

4 Tbsp rum

3 1/3 stick of ice cold butter cut into small cubes
Filling:
5 peaches

1 cup Quark

3 Tbsp buttermilk

1/3 cup sugar

1 egg yolk

2 Tbsp sour cream
1 egg yolk

2 Tbsp powdered sugar
Mix all ingredients of the dough using a pastry cutter. Wrap into plastic wrap and refrigerate for 30 minutes. Blanche peaches, peel, cube and remove stones. Mix Quark, buttermilk, sugar, egg yolk, sour cream, and peaches. Thinly roll out the dough on a floured surface. Cut into 2 ½ inch squares. Fill squares with the filling, fold over into triangle and seal edges. Brush with beaten egg yolk. Bake in preheated oven at 400F for 20 minutes. Let pocket cool before dusting with powdered sugar.